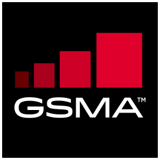 With GSMA Device Check™ you can find out instantly whether a device has been reported lost or stolen through the world's most accurate registry of device status.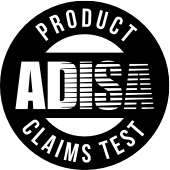 M360 has successfully passed the ADISA Product Claims Test process for phone erasure. ADISA is an accreditation body specialising in data disposal services.

Full support for thousands of Android and iOS models
Don't waste your time with multiple software to cover both platforms. M360 is your true, all-in-one tool that supports tens of thousands of devices, starting from Android 5.0 and iOS 12.0, both phones and tablets. With our built-in Windows driver installer, you can easily one-click install and update all required drivers for all brands. We are also very fast in supporting new hardware like foldable and new flip phones.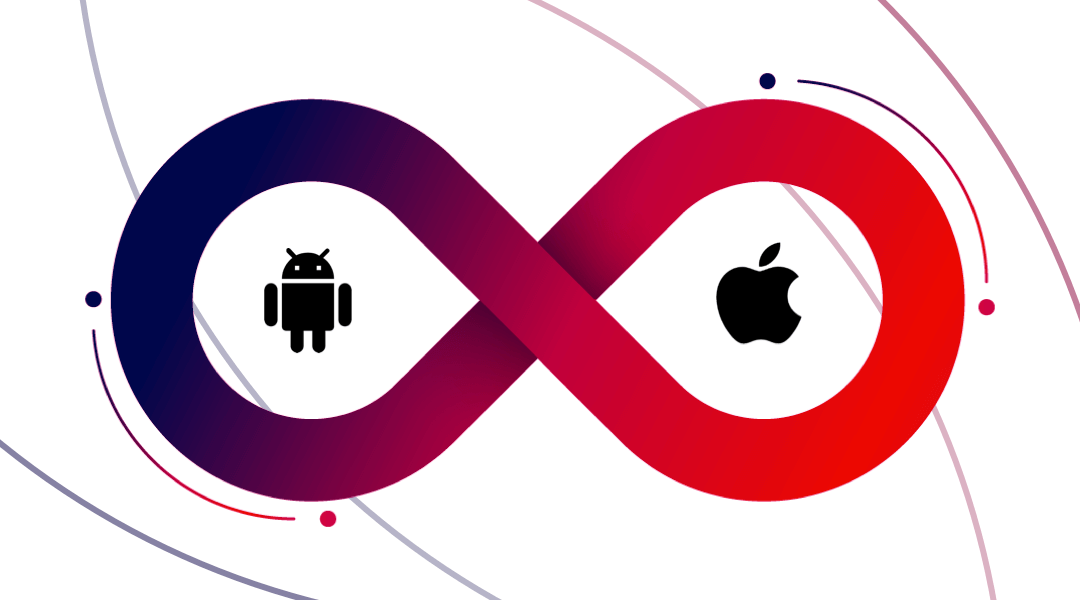 Support for Apple devices
iPhones and iPads with iOS 12.0 or newer
Support for Android devices
Phones and tablets with Android 5.0 or newer, all brands
Built-in driver installer
M360 takes care of all required drivers and keep them up to date

Extensive device information, as soon as you connect
We call it "Get Info", the first screen you see when you connect any phone or tablet. It reads all available key information from the device, such as IMEI, serial number, Google Account, Samsung Knox Warranty, Find my iPhone status, battery health, storage report, and many more - instantly.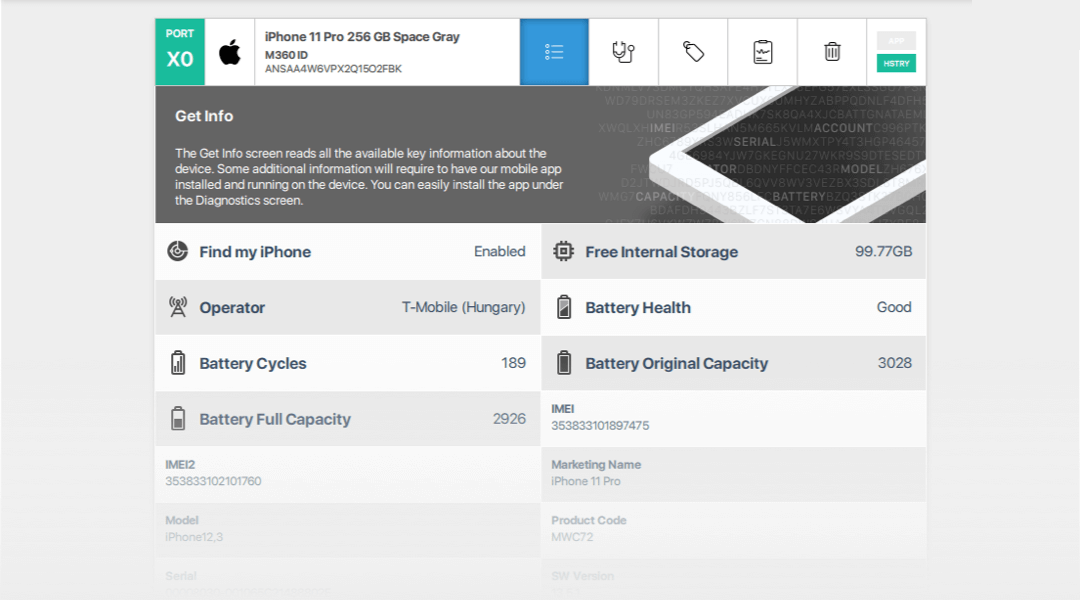 Android (5.0+) Support
Displays 17+ key info
iOS (12.0+) Support
Displays 15+ key info
Smart Layout
Single & multi-device layouts

Fully test devices before you buy, sell or service
Run several tests to diagnose many aspects of a device. Each test starts with a detailed description and how-to instructions.
You can choose from your saved test templates or just select tests one by one before you start. Once you become familiar with our testing workflow, you can speed things up with the expert features like automated test validations, automated app install, etc.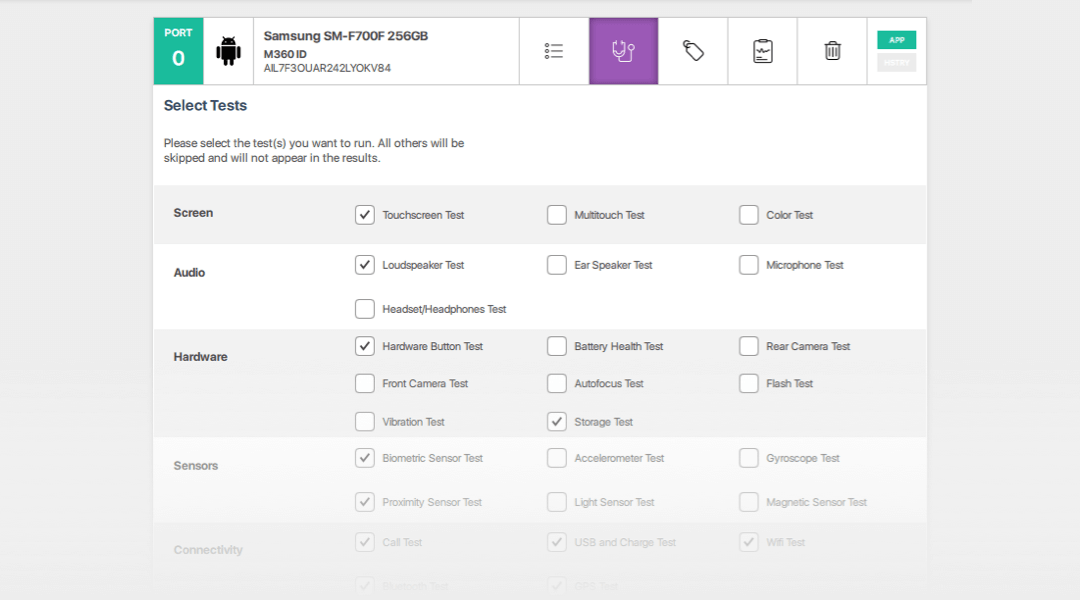 What can you test with M360?
Well, the screen, speakers, microphones, hardware buttons, cameras, biometric sensors, accelerometer, gyroscope, proximity sensor, light sensor, magnetic sensor, Bluetooth, Wifi, GPS, call function, and the battery as well. And of course, we keep adding new ones.
26+ tests
No surprises, get every hardware component tested
Custom Workflow
Shared test templates across your team and shops
Expert features
Rapid testing with automation

Quick device wipe in seconds or thorough secure wipe
We offer two types of device wipe solutions. The secure wipe first erases all personal media and documents, then overwrites everything with random data before it does a factory reset. By doing so, no personal data can be recovered later from the device. It covers media files, contacts, SMS, MMS, call-logs and calendar entries. The other one is the system default, reset to factory settings method that is a quick but not completely secure.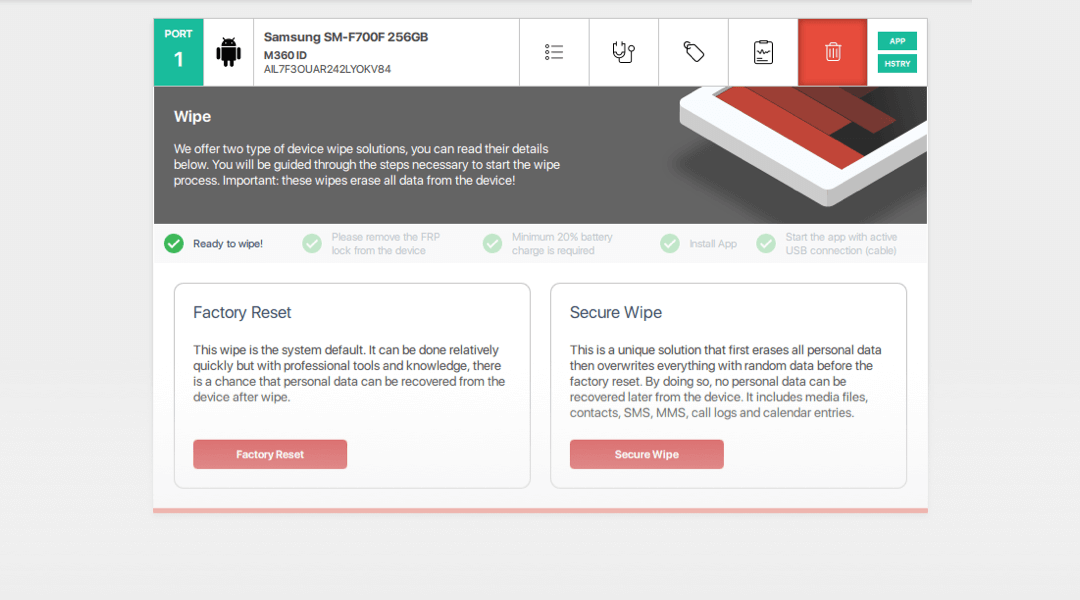 Secure Wipe
Wipe devices securely, with no possibility to restore personal data
Quick Wipe
Start the system default, reset to factory settings method with one-click
Guided Workflow
Step-by-step requirements checker ensures flawless wiping

Device grading, register accessories and save customer data
In our grading section, you can record the device's cosmetic appearance. Rate the screen, the LCD panel, the case, and the back cover's condition with the traditional A-B-C-D-F system or with our convenient visual method. We offer checkboxes to register the list of accessories, and a dropdown selector to set device status flags, to mark if a device is in for service, already serviced, and many more. This is where you can attach customer details to a device as well.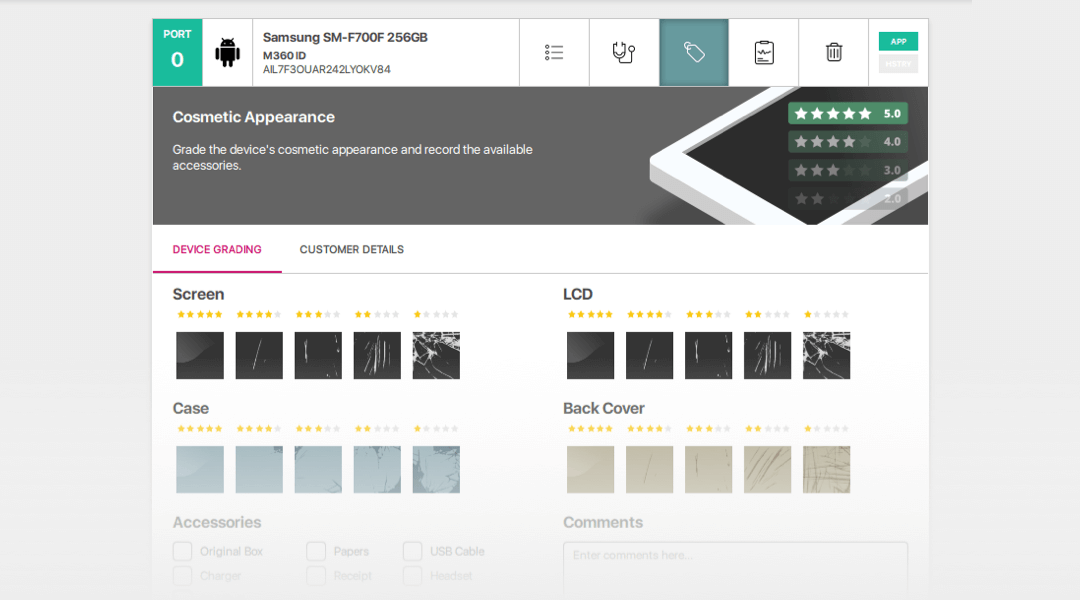 Record Condition
Four categories, two grading systems, grading in seconds
Register Accessories
Charger, papers, box, etc., register them all
Status and Customer Details
Set in-store device status and save customer data

Professional test results and detailed work history in the cloud
M360 provides you with very detailed reports about the devices and their test results. You can print them, save them, share them online or export to CSV for further processing. Your customers will appreciate the 3rd party, independent device status report what you can hand over right away, before and after servicing.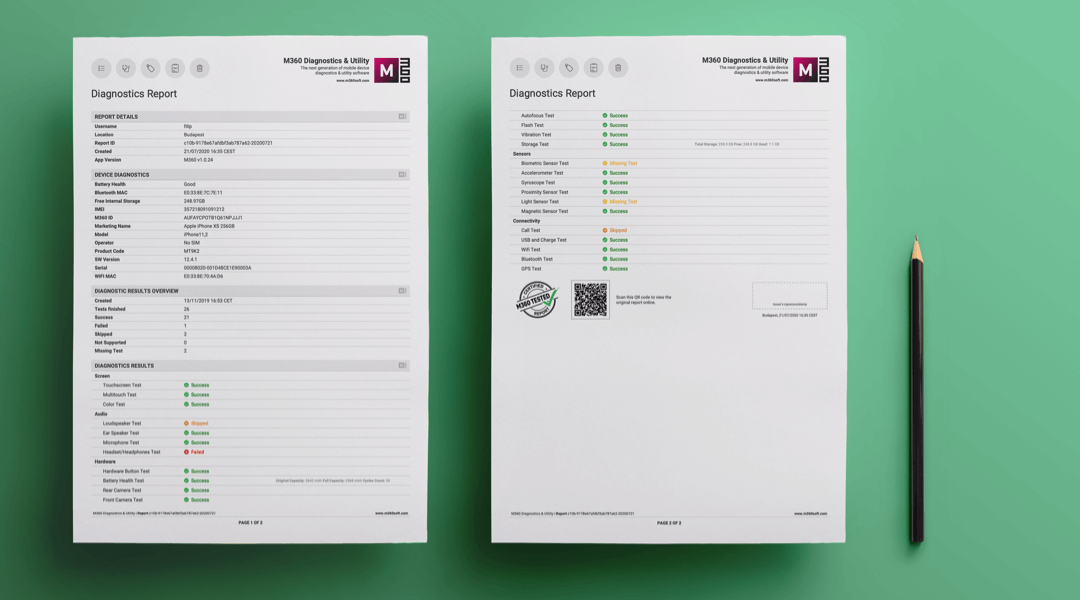 Our work history contains every detail about every device you ever connected! It's shared between your group if you operate from multiple locations or PCs and it instantly recognises previously connected devices. With its extensive search and filtering options, you can easily find any record from the past.
Professional Test Results
Print, save, share online and export test results
Detailed Work History
Saved in the cloud, shared across your PCs, easy to search
Device Labels
Print device labels with the selected details to organise your stock
Hello big, corporate players!
We are open to cooperation and custom development for big corporations and networks. Please get in touch if you think we should talk! Here are a few things we can do to help to integrate M360 into your business:
Modern and customisable API access
White-labelling
Distributor and reseller discounts
Support new languages
Contact